Structure
The strata generally have very slight dips (a few degrees), that are often orientated towards the sea. These dips are mainly controlled by plunging synclines and anticlines and small dome-like structures. An important structural control, which affects each bed's proximity to sea level, is faulting. Faulting can also affect the dip of a bed as well as its elevation relative to sea level. Close to a fault the beds may either become vertical or very steeply dipping, and very disrupted. This is caused by the motion of the fault dragging the beds and distorting them from their previous position.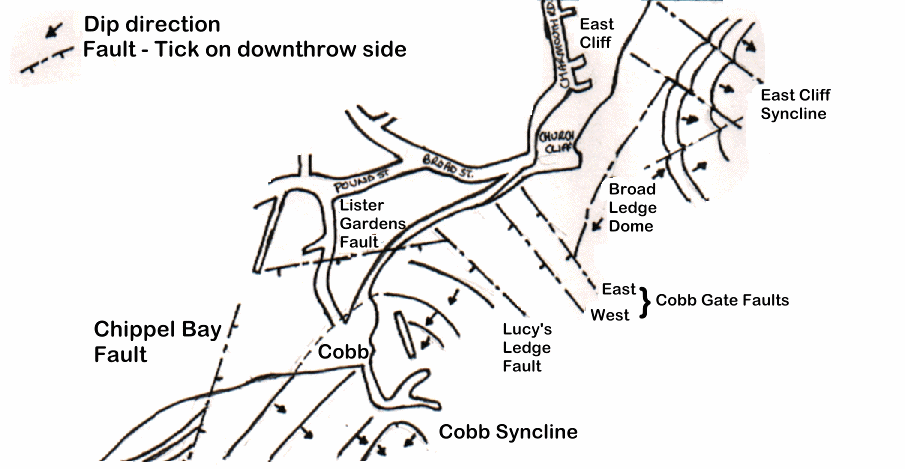 Structural Geology Map of the Lyme Regis Foreshore (after Gallois, 1996)
The folds and faults of Lyme Regis can be identified in the rock ledges and the patterns they make along the foreshore. The Cobb syncline can be traced by the way the outcrops of the rock ledges curve around the bay. The age of the rocks also gets younger towards the core of the syncline, with Shales-with-Beef cropping out underneath the Cobb and harbour. The East Cliff syncline can also be traced by looking at the rock ledges. Broad ledge is a saddle or dome that separates the two synclines.
GALLOIS, R. W., 1996. Provisional Geological Map of the Lyme Regis Foreshore. Unpublished.