Black Ven and Lyme Regis
Lyme Regis is a small seaside town famous for its artificial breakwater harbour, the Cobb, its fossils and fossil hunters including Mary Anning. Situated to the East of Lyme Regis, Black Ven is the largest and most studied landslide complex in Europe. The landslide has progressively eaten away at the cliff line pushing it further inland, destroying two coast roads from Lyme Regis to Charmouth, the last one in the early part of the twentieth century. It is now taking chunks out of the Lyme Regis Golf Course, and the coast path has been closed and walkers are diverted to a much safer inland route.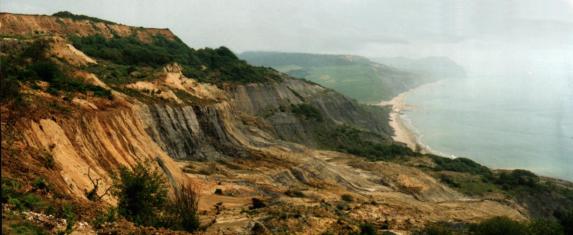 The Black Ven Landslip
The Black Ven Landslip has activated a landslide complex nearer the town called the Spittles. This area is owned by the National Trust and is managed as a nature reserve. It is here that the progression from relatively stable land to the active landslides of Black Ven can be seen.

Looking east from the Blue Lias of East Cliff towards Black Ven, Charmouth and Stonebarrow.
Within the town itself there is evidence of landslide activity, the most obvious being the small landslide that has deposited debris on top of the shelters along the Marine Parade. There is historical evidence as well, pay a visit to the Cliff Cottage Tea Rooms and see evidence of what happened during the Cliff House landslide during the 1960's.
As part of the Lyme Regis Environmental Improvements, experimental drainage work of the coastal slopes has been initiated. With boreholes being drilled horizontally 80m, through the Marine Parade sea wall and into the landslide complex behind, in an attempt to drain water from the landslide and hopefully prevent further movement.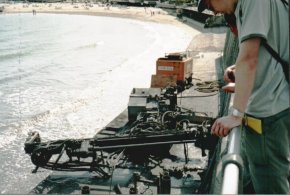 Horizontal Rotary Drilling Rig on the Cart Road (Lower Sea Wall), drilling drainage holes through the Marine Parade Sea Wall to a distance of 80m inland.